PERSON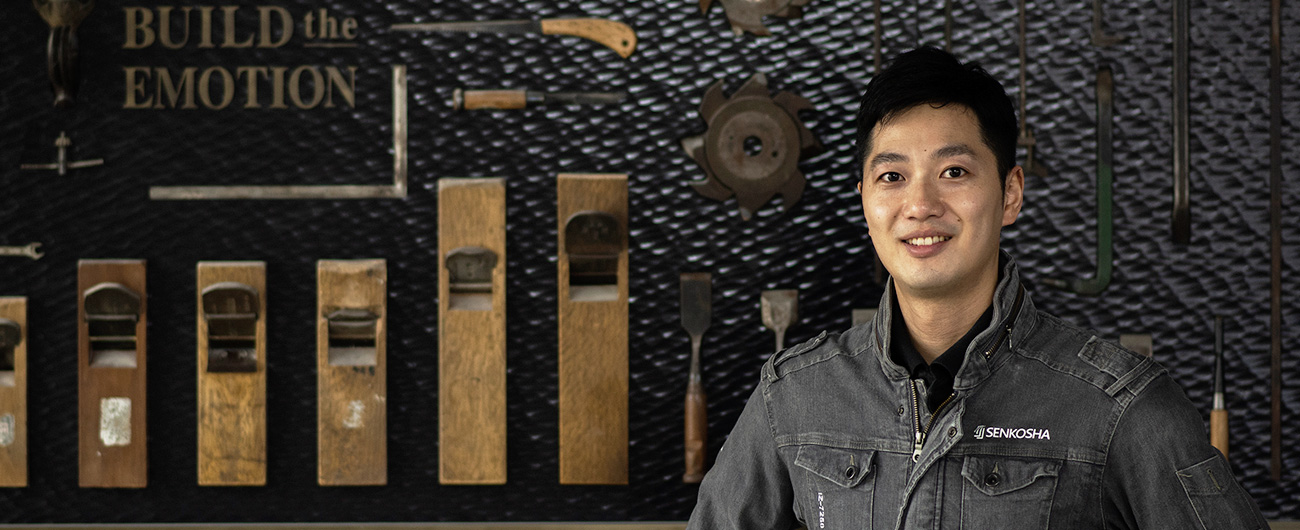 Production Department, Plant #1 Joined 2018
Born in Niigata Prefecture. Before joining Senkosha, Sonoda worked in construction and civil engineering. He is currently in the production department at Plant #1, honing his skills with the intention of becoming a leader in the future.
I joined Senkosha because I felt sympathy with the corporate philosophy, "Craftsmanship to touch people's heart."
I always wanted to get a job where I could enrich people's lives and touch their hearts with what I created. So I felt great sympathy with the corporate philosophy of Senkosha. I did not have any experience in production, but I joined the company to take up production work. Upon joining the company, I started my career by learning adhesive bonding. For the next six months or so, I learned the whole process of production by experiencing material cutting, processing, assembly and finishing. I am now being given opportunities to experience the production of fixtures for various projects.
At the plant, younger workers gather once a week on a voluntary basis to have a study meeting to learn how to read drawings and perform each process. I feel that these activities also help us to embody the idea of "Craftsmanship to touch people's heart."

The most memorable job thus far was when we produced furniture for the renovation project at a large-scale commercial facility. The project lasted for more than six months. Every member of the plant took part in this project, working on retail space creation. I will never forget the production of surface materials of various designs. We had to produce a great number of decorative surface materials, each of which required very delicate, fine processing. Crafting such materials was a difficult task, but it was a great opportunity for new workers like me to improve our skills. I could see myself improving as I repeated the process: I got faster and better. On another occasion, I had a chance to observe the fixtures we produced being installed in an actual retail setting as part of our training. That was when I realized that our fixtures alone would not suffice as finished products. I was able to expand my definition of finished products as encompassing the entire retail space. Since then, I pay attention to the overall image of the finished work whenever I engage in production.
Many of our company's creations are delivered to retail stores of prestigious overseas brands. Therefore, all members of the company are dedicated to quality. Immediately after joining the company, I did not have the required level of awareness of quality and was warned by senior workers about my careless handling of materials and the poor quality of my finishing work. However, through working every day and by observing the work of my seniors and receiving advice, I think my awareness has been heightened. Members of the plant are working at their own initiative and look very energetic. I am still in a position only to receive advice, but I would like to return something to my superiors. From now on, I will try to express my opinions at study meetings and training sessions and utilize my experience, thereby playing my part to contribute to the growth of the plant.
Partly because the plant manager talks to us in a friendly way, we always have an open and positive atmosphere at the work site. We have many occasions where we can communicate with our co-workers regardless of age and length of service at the company, such as study meetings for younger employees and recreational activities, in addition to doing production work.